The Rise and Fall of Blackberry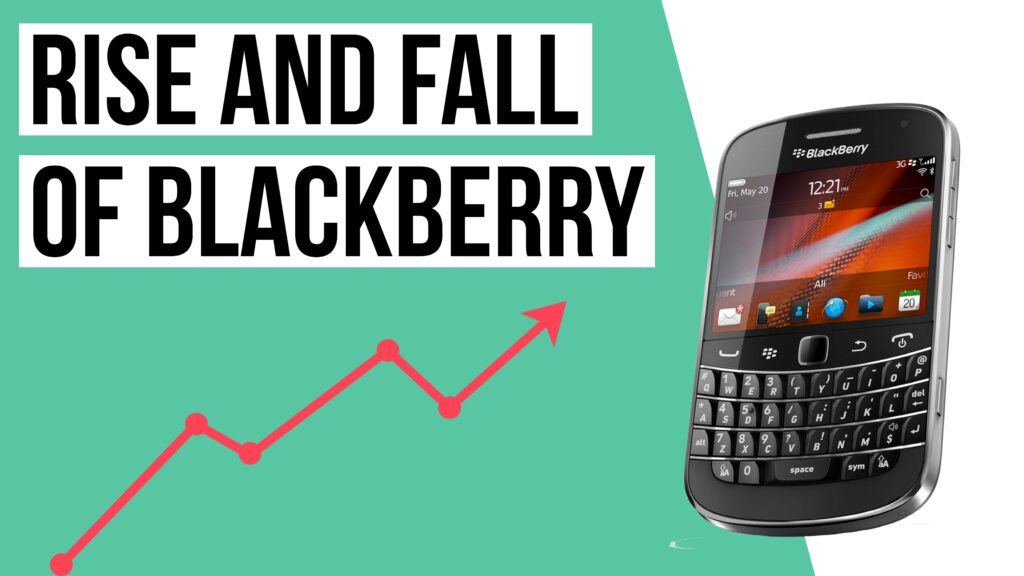 Remember those trendy phones with QWERTY keyboards? A small screen, a trackball in the middle and the keyboard suitable for official work. Those phones were launched by none other than the icon itself – Blackberry.
This giant of the mobile industry had acquired 80% of the US market and 20% market globally. With over 50 million units sold in 2011, was favoured by hundreds of thousands of people. Having a Blackberry in your hand represented you as an elite member of the society.
Initially known as Research in Motion (RIM), the company was founded by two Canadian engineering students – Mike Lazaridis and Douglas Fregin, in 1984. The company laid its foundation by involving in several projects like an LED system for General Motors, a local network for IBM, and even a film-editing system that won an Oscar in 1998. But the project that gave RIM a head start as a pioneer in mobile messaging was the one offered by Roger's, another Canadian phone provider. In 1989, Roger's hired RIM to build on its Mobitex network, a messaging-specific system.
RIM successfully released its first two-way pager in 1996. In the years that followed, they gradually added on features like a colour display, Wi-Fi, instant messaging, and an alarm clock.
With the launch of Inter@ctive Pager 950 in 1998, the world went crazy. This pager had a small screen, the iconic QWERTY keyboard and trackball which enabled a person to use it for work purposes as well. With its launch in the market, it became a favourite of millions, especially all the workaholics out there, as the features made functions like typing an email or scrolling through the internet easier.
Following the huge success of Inter@ctive Pager 950, Blackberry introduced the 850 pager in 1999, which supported "push email" from Microsoft Corporation's (MSFT) exchange server. In 2000, it launched, BlackBerry 957, its first smartphone.
The convenience that Blackberry phones added to one's professional life contributed bigtime in the ever-increasing profits the company made between 1999 to 2001. It continued to expand functionality in the BlackBerry Enterprise Server (BES) and BlackBerry OS. Between 2001 and 2007, Blackberry saw a rise it probably had not even anticipated. It was visibly dedicated to its expansion as they continued with the addition of new products to its portfolio.
The launch of BBM messaging service, in the following years, took the world by surprise. BBM created the possibility of sending and receiving unlimited texts which became a popular medium of talking amongst the audience. Being able to BBM also made you a member of the ultra-exclusive BlackBerry-only club.
The Game Changing Moment
Blackberry was seen to be on its record high in mid-2008, when its stock price peaked at $146. A company that attained an astounding success, is now nowhere to be seen. Ever wondered why?
In 2007, right before the time when Blackberry was at its peak, Steve Jobs had launched iPhone. The iPhone that was the first ever touch screen phone, enticed the entire world. Blackberry ignored the success of iPhone assuming it to be an aesthetic of the young generation but in no time, iPhone became a hit amongst the core audience of Blackberry, the business leaders, as well. But despite all the storms, Blackberry was still relied upon as the "business email device."
In 2008, Blackberry released a phone to compete with iPhone, called Storm, which was also a touch screen phone. Initially the phone did well, in terms of sale, but gradually tons of complains were being made regarding the working of the phone. The inception of the iPhone 4 in June 2010 became a significant hint of Blackberry's decline. Apple's phone sales topped the charts and the rest is history.
By this time, the fever of Android or iPhone had spread widely. Barely 207,900 BlackBerry handsets were sold in the fourth quarter of 2016, out of a total of 432 million smartphones shipped worldwide, giving RIM a 0% smartphone market share. In 2016, a Chinese consumer electronics business called TCL bought Blackberry marking the end of the company forever.
BlackBerry's patent portfolio was both its crowning glory and competitive advantage. The engineers in Blackberry took pride in even thinking of a patentable idea. Its patents have had a critical role in the growth of the company.
BlackBerry: The Real Story Is in The Patents
Patents are an essential part of any company dealing with technology, similarly, for Blackberry also, patents have played a significant role. The first patent that was ever granted to the founder and co-CEO Mike Lazaridis in 2005, was kept on display in BlackBerry's Waterloo headquarters.
BlackBerry's patent portfolio's value was approx. $3 billion in 2013. Another way of looking at this patent portfolio is that BlackBerry was estimated to have a revenue run rate of $200 million per year from this patent portfolio, which at a near zero marginal cost comes to $2 billion for the remaining duration of 10 years
As per a report release in December 2017, BlackBerry owned a total of 21,226 (7,016 US and 13,237 worldwide) patents and patent application count of around 20,000 (nearly 40,000 less 20,253). BlackBerry's total patent and application count was 37,500, as per the company's end of February 2019 filing.
The Bottom Line
Blackberry, similar to Kodak had to go through unpredictable yet inevitable decline. But it was a company that did not compromise on taking risks to improve its technology and trying to entice the audience even after its falls. None of the industry rankings, predictions, or recommendations seem to fit the BlackBerry stock play.