A Historic First: Women Officers to Serve on Warship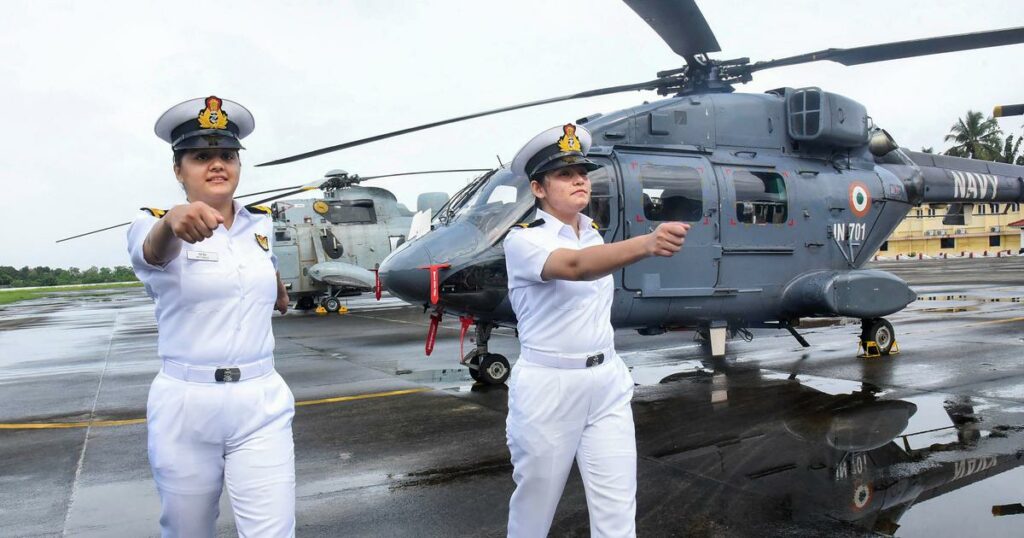 For the first time two women officers, both pilots, Sub Lieutenant Kumudini Tyagi and Sub Lieutenant Riti Singh who are training as mission observers will be the first women officers in the Indian Navy to be embarked on Indian Navy Warships. The two young women officers will be specialists operating a host of sensor systems onboard.
A huge bastion being broken; women officers do not typically serve on Indian Navy Warships for any extended deployment out at sea. This move will redefine gender equality in the Indian Navy, the officers are training to operate multi-role helicopters, including sonar consoles and Intelligence, Surveillance and Reconnaissance (ISR) Payloads.
The Navy said Sub Lieutenant Kumudini Tyagi and Sub Lieutenant Riti Singh have been shortlisted as observers in the helicopter stream. Observers are supposed to calculate the threat and designate the target. Announcing the decision, the Navy said, "In yet another first in the history of Indian Naval Aviation, two women officers would be in effect, be the first set of women airborne combatants who would be operating from warships."
The two officers, SLt Kumudini Tyagi and SLt Riti Singh, are part of a group of 17 officers of the Indian Navy, including four women officers and three officers of the Indian Coast Guard (13 officers of Regular batch and 4 women officers of Short Service Commission batch), who were awarded "wings" as Observers on Monday at a ceremony in Kochi.
The Navy deploys women in logistics and medical wings on-board fleet tankers, but it will be for the first time that women will be onboard destroyers and frigates. The two officers are expected to eventually fly the Navy's new MH-60 R helicopters, which are designed to detect enemy ships and submarines and can be engaged using missiles and torpedoes.
"Things are changing every day in the Indian Navy," Tyagi, a fourth generation armed officer from Ghaziabad, told NDTV. "The Navy is giving everybody an opportunity every day. Yes, we are breaking the barriers every day but there are also lots of opportunities and responsibilities coming up every day. Whatever role the Indian Navy gives us; we will gladly take them."
Last year, Flight Lieutenant Mohana Singh became the first woman fighter pilot to become fully operational by day on Hawk aircraft. She was one of the three women pilots inducted in the fighter stream of the Indian Air Force in 2016. Singh along with Flight Lieutenant Bhawana Kanth and Awani Chaturvedi were the first three women to be commissioned into IAF in 2016.