Inside Reliance Jio & Qualcomm's Game Plan for 5G.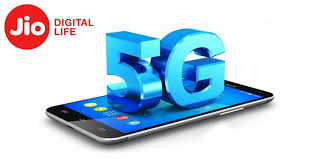 Reliance Jio has announced its plan of bringing 5G to India at the Qualcomm's 5G Summit. The telecom giant has joined hands with US-based Qualcomm for fast-track development of mobile internet based on homegrown technologies.
Jio which started its public rollout in 2016, as the first 4G-only network in India, offering voice and data over LTE connection, has now moved into 5G and is expected to launch a value-for-money 5G smartphone that could help bring about Mukesh Ambani's goal of '2G-mukt-Bharat' (2G-Free-India). The telco, captured itself into being India's top telecom companies offering liberal free trials and at extremely cheap rates. It recently became first provider to cross 40 crore subscribers. In the past few months, it has drawn huge amount of funding from the like of Facebook and Google, and when 5G launches, it will trigger a fresh round of growth.
The two companies announced that they have achieved speed of 1 Gbps on Jio's 5G solution using a Qualcomm platform. For illustration, what this mean is that it will be possible to download a movie with a file size of one gigabytes in just one second.
Speaking at the keynote of Qualcomm's 5G Summit, Reliance Jio infocomm President Mathew Oomen said that Jio has developed a fully indigenous 5G Radio Access Network (RAN) product. Qualcomm also said that Snapdragon will support OpenRAN 5G, along with Jio and various other telcos.
The partnership also includes Radisys Corporation, a US subsidiary of Jio. With an indigenous network, India will not have to rely on equipment from Chinese companies such as Huawei and ZTE, thus obviating a potential security threat to crucial national infrastructure.
"This achievement not only supports Jio's 5G credentials, but also signifies the entry of Jio and India into Gigabit 5G NR portfolio," the two companies said in a statement.
At present, only a handful of countries, including the US, South Korea, Australia, Switzerland and Germany offer 1 Gbps speed to 5G users. In India, the government is yet to allot spectrum for 5G. India is expected to auction 5G airwaves in 2021, and Ambani has said that Jio is ready to deploy its network the same year.
Smartphone brands are also launching 5G-ready devices in India. However, a vast majority of 5G smartphones are available in premium to ultra-premium category.
Reliance Jio, in partnership with Google, is developing affordable 4G and 5G smartphones based on Android, a development which could bring cheap smartphones to hundreds of millions of Indians and undercut dominant vendors from China.