Domex vs Harpic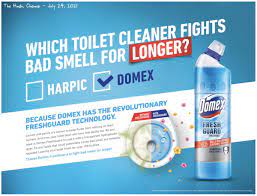 In toilet cleaner advertisement Hindustan Unilever's (HUL's) Domex has directly named Reckitt's Harpic, claiming superiority on the specific aspect of dealing with a difficult situation of funk.
This new television commercial or advertisement features actors Divyanka Tripathi and Revathy, which shows a supermarket as the setting where a consumer is forced to reconsider her toilet cleaner purchase when her son questions her choice of product when she picks up Harpic from the retail shelf.
Hindustan Unilever (HUL) stated that its new Domex Fresh Guard toilet disinfectant cleaner "is composed of surface-modifying molecules, leaving a protective hydrophobic layer on the toilet surface to reduce the accumulation of water, stains and bacteria. To solve some persistent problems, such as cleanliness, hygiene, and odors." Domex is the leading brand in most European markets. However, in India, the brand is not widely appreciated or understood by consumers. Harpic is the market leader in this category with the largest share of more than 70%, while Domex has a 7% share in the ₹1,300 crore market segment.
"The latest communication is in line with our goal to give consumers the evidence to help make informed decisions determined by scientific insight and technology. Our extensive studies, research and data-backed certifications underpin the superior science-first formula of the offering." Said Prabha Narasimhan, executive director & VP, home care (South Asia) of HUL.
Legal Actions on the Advertisement
Under Article 19(1) (a)of the Constitution, which deals with freedom of speech and expression, the right to "commercial speech" is recognized. Observed by the Hon'ble Supreme Court in the case of Tata Press Limited v. Mahanagar Telephone Nigam Limited & Ors. The advertising of one's own goods is not prohibited.
Section 29(8)of the Trade Marks Act, 1999 ('Act') clearly states that an advertisement of a particular mark/brand amounts to infringement of the trademark if it takes unfair advantage of another trademark, or is detrimental to the very distinct character of the other trademark, and is also against the trade mark's reputation.