Emami gets edge in trademark case against Dr. Morepen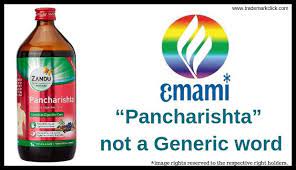 Against the trademark case of Dr. Morepen, FMCG major Emami gets edge on 13th September 2021.
FMCG major Emami on 13th September 2021 has a favorable order on a trademark infringement suit against Dr. Morepen a leading pharma organization. The suit was recorded under the watchful eye of the Commercial Court at Alipore for encroachment of trademark under Section 134 of the Trade Marks Act, 1999. This was intended for passing off and extremely durable injunction and for encroachment of copyright under the Copyright Act, 1957.
Emami had claimed that it is the enrolled proprietor of word "Pancharishta" since 1968 and furthermore the enlisted owner of the mark "Zandu Pancharishta" and "Zandu Pancharishta Plus" other than different registrations of the said mark "Pancharishta" the two words and labels mark and the company professed to be the primary client of the said mark.
The defendant explained that the word "Pancharishta" is based on traditional ayurvedic texts.   "Arishta" has been described as a drug which is prepared using water and boiling the same is scripted in Sarngadhara-Samhita, published from Varanasi. The defendant claimed that as "Arishta" is an ayurvedic preparation, so no monopoly can be claimed or granted in respect of the same.
Emami showed the results of Search engines which presented the product of the plaintiff and not the resource of Aristha after typing Pancharishta. Further, the plaintiff claimed that the mark "Pancharishta" is a unique combination of the number '5' in Devanagari/Hindi language, combined with the word Arishta and not existed prior to the Plaintiff"s usage.
Emami asserted that the container and colour scheme of them and that of Morepen are indistinguishable in nature and furthermore the Emami' registered trademark "Pancharishta" and "Zandu Pancharishta have been infringed by the pharma firm by use of misleadingly comparative marks "Dr. Morepen PaachanRishta" and "Dr. Morepen Paachanarishta".
The Commercial Court at Alipore allowed the application of Emami for temporary injunction earlier under Section 151 of the Trade Marks Act, 1999 and Copyright Act, 1957.