Milka chocolate bars vs Primal Pantry's snack bars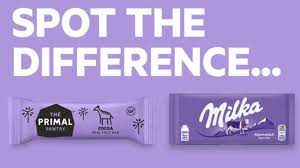 Primal Pantry, has been threatened with legal action by corporate chocolate company Mondelez International over the color of its packaging.
Mondelez's Milka chocolate bars claims that Primal Pantry's cocoa snack bar "exploits" its trademark. Mondelez owns big names such as Oreo and Tobleron. Mondelez's lawyers are requesting that the use of lilac bundling for the snack bar be swapped out, warning notice of a £5,200 punishment each time the brand trademark is infringed. However, Nurture Brands, which owns Primal Pantry, denies exploiting of the trademark
The Primal Pantry's cocoa snack bars were launched in 2016 in a range of colors so that "they have good differentiation on a shelf together", said Adam Draper, managing director of Nurture Brands. Mr. Draper added, "We don't think it is the same color or even in the same spectrum." The Nurture Brands Primal Pantry was founded in London, Nurture Brands supplies plant-based snacks across Europe. 26 people are its employees in the Barbican headquarters and runs a factory in north-east England.
Mondelez has given Nurture Brands 6 months to swap out its lilac packaging. However, its subsidiary Cadbury lost an appeal to protect the particular shade of purple used for its packaging in 2019, said BBC reporters.
"We own a color trademark in Europe for the distinctive lilac Milka color for food products. As a matter of practice, to protect the values of our brands which we have worked hard to build over hundreds of years, we express our concerns to third parties when we feel they are using a protected brand element," a spokeswoman for Mondelez said. "We have opened up conversations with Primal Pantry to try and resolve the matter amicably," she added.