5 most innovative startups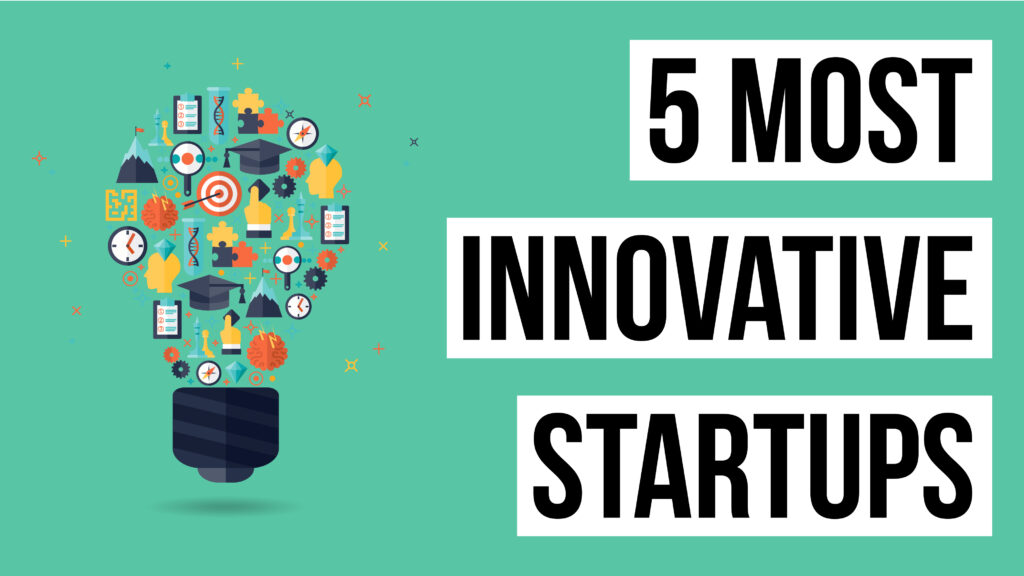 World is full of innovators and the startups, Innovation doesn't just belong to any special place or people, it comes from anyone and from anywhere. Today we will discuss about some innovative and incredible startups from almost every domain, and this startups are proves that if you identify genuine problems and create best and simplest solution around that, then for sure you can develop a successful business.
The startups which we are going to discuss today are:
1.EcoWorth Tech
2.Orinho technology
3.Aloe-Ecell
4.ZEE kit
5.Ottopia
EcoWorth Tech is a clean tech company and they are into commercializing the Carbon Fiber Aerogel technology. EcoWorth Tech focuses on waste management which turn into providing financial, environmental and social benefits.
EcoWorth tech proves that small solution can develop great business by providing benefit to environment also. We all know that world is running out of clean water, and do you know what EcoWorth had developed a solution for that too and so they made a sponge of carbon fiber aerogel to clean the water. In fact EcoWorth had not only developed the solution through which we can have clean water but also developed the solution through which we could reuse the water.
So see how innovative the company is, we all know about the problems but the person who develop the simplest and best solution became the great entrepreneur.
This startup is trying to keep the world safe from mosquito-borne disease. The co-founder David due and his team had developed a system through which scientist can do male mosquito breed, in this males mosquitoes are injected bacteria named wolbachia and then they are released in the environment to breed with female mosquito, the eggs which the female mosquito gives are not hatch because of that bacteria, which controls the birth of deadly or wild mosquitoes, in other words Wolbachia Bacteria which are injected in the male mosquitoes that bacteria stops the female mosquito's egg to get hatch. In the last year 2020 Singapore's residential area had practiced this technology and they had witnessed positive result.  This is all about the orinho technology which is lab developed mosquitoes, which are developed to control population of wild mosquitoes.
We all use batteries in our life in different purpose, but many of us don't know that batteries are very dangerous for the environment and Aloe-Ecell had identified this problem and created an ecofriendly batteries from Aloe Vera which is not only good for the environment where as also for the pocket as it is low in cost.
Aloe-Ecell is founded by Nimisha Verma and Naveen Suman and this startup is winner of many national and international awards. No one would ever thought that Aloe Vera can be used to create batteries, we only knew that Aloe Vera is used for beauty and health purposes.
ZEE kit is a startup of Israeli and they have come with solution of most difficult problem while online shopping, you can think, what's the major problem while online shopping of clothes, maximum will say they are confused in size and second thing that how the dress will look on you. We see clothes online and we like them also but we are always confused how it will look on us after we wear it and will the fitting will perfect or not, but now ZEE kit had solved this problem through their technology platform . You can upload your actual and complete photo on ZEE kit and there you can try different dress, in different color and size, you will get to know all. In fact zee kit have introduced virtual dressing room, where you can virtually try dresses.
Now when we are talking about Israeli startup how could we forget about Ottopia?
 In today's date Through AI and ML many startups are working in automobile sector, many startup had completely changed their sector but when it comes to Israeli where the startup ecosystem technology is on the top most  developed ecosystem. So we have higher expectation from technology and startup from Israeli because the things which we haven't thought about or even would think in future, that is point where Israeli start their startup from. So ottopia is going to launch self-driving cars. You can drive actual car from home, this is a very great innovation for the peoples who don't know driving or have huge fear of driving. But at this point ottopia had basically started this self-driving cars for commercial purpose for drivers like Ola uber etc.
Innovative people identifies the problem which we all see and face in day to day life, the startup then creates the simplest and best solution for that and then becomes great entrepreneur with great success. Innovative ideas can be from anywhere and anyone, there is no fixed place or person for that, anyone from anyplace can do new inventions and start their startup but the only thing to be noticed is that the problem should be real and genuine.