Successful Maiden Flight for Futuristic 'Flying-V' Airline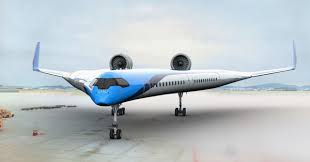 A team of researchers and engineers with a drone pilot from the Dutch-based Technical University of Delft (TU Delft) have reached a major milestone by conducting the first real test maiden flight of the 'Flying V', a futuristic and fuel-efficient long-distance aircraft that would one day carry flyers in its wings.
The name 'Flying V' is derived from its noticeable 'V' shape, integrates the passenger cabin, the cargo hold and fuel tanks in its wings. Being lighter weight and producing less air resistance, the 'Flying V' is projected to reduce fuel consumption by 20 percent.
A drone pilot reportedly controlled the aircraft, which was to take off at a speed of around 50 miles per hour, and its flight speed, angles and thrust capabilities all performed as planned, reported CNN.
The 'Flying V' project was first presented at the 100th of Dutch Airlines KLM, which has also been in the project since its beginning last year. Various partners, including Airbus, are now part of the project.
The team of researcher and engineer led by Project Leader Dr Roelof Vos, Assistant Professor of Aerospace Engineering TU Delft and researcher in Flight Performance and Propulsion, expressed his post-success joy, stating, "One of our worries was that the aircraft might have difficulty in taking-off, since the previous calculation had shown that 'rotation' could be an issue. The team optimized the scaled flight model to prevent the issue, but the proof of pudding is in the eating. You need to fly to know for sure."
According to TU Delft, the next step, would be to use the data collected during the flight for an aerodynamic model of aircraft, which they can later use to program a flight simulator to be utilized in future research, while also refining flight characteristics.
Before the test flight in an airbase in Germany, the technical experts had been engaged in a period of extensive wind tunnel testing in Netherlands to measure the velocity around and force on the structure of the aircraft to determine its stability in airborne condition.
The design doesn't have the length of the comparable long-haul, widebody Airbus A350, but it has the same wingspan, which means that the 'Flying V' would suit present the airport infrastructure, such as gates and runways. It will also be able to carry approximately the same number of flyers (314 in the standard configuration) and the same volume of cargo.