Kalki Subramanian, A Celebrated Indian Transgender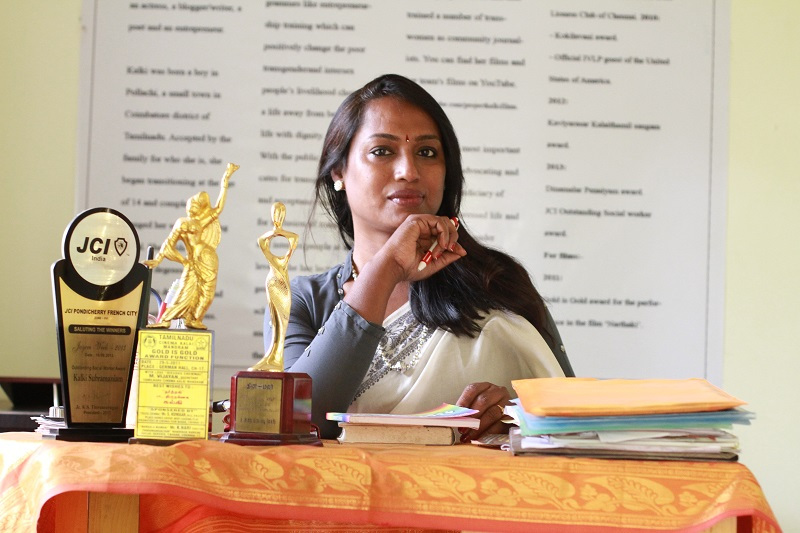 Breaking the stereotyping of transgenders and demonstrating to the world that being a transgender is nothing to be ashamed of has been one of Kalki's biggest challenges. Kalki dons many hats- that of actor, a poet, an author, a transgender, an artist, an activist and an entrepreneur.
Kalki says, "She remembers her childhood so vividly. She was a playful child at home and a good student at school, until the age of 11. She recalls, she used to feel uncomfortable on being addressed as "he," and it seemed like there was girl inside who liked everything that a little girl of my age liked.
She was never ashamed of who she was, she never feared the big bullying boys and would always fight back. Overwhelmed with thoughts about family acceptance and their reaction to her true identity, often pushed her to think of even suicide, though she never tired it.
One day she picked up the courage and spoke to her parents about the gender identity crisis. "My parents broke down; they were worried about my future. I was sad to see them crying so I made them a promise that I would make them proud if they let me be."
Her positivity and self-belief have seen her through tough times and critical decisions. She tells people "If a confused till boy can become a heroine, then anything is possible in this world, all we need is determination, courage and belief in oneself."
Kalki's list of achievements is long. She was one of the prominent activist to lobbied for the recognition of legal rights for transgender people and a milestone victory in 2014 when Supreme Court of India finally recognized the transgender community's civil rights in the country. Kalki has received several awards for her contribution towards transgender rights.
Her collection of poetry in Tamil titled 'KuriAruthean' was published in 2014. She received numerous awards for social work, film performance and her literary contribution. As an artist, Kalki's painting depict diversity of humans and that of nature. Her paintings are vibrant and colorful.
Through her TransHearts art Project, she offers free workshops for transgender people and encourages them to express their life stories through art, she promotes their artwork and supports their livelihood. This entrepreneurship venture is first of its kind in South Asia. The project with a mission to reach transgender people to encourage and train them to paint their untold stories on canvas.
In 2009, Kalki started a matrimonial website for transgender. Kalki bagged several awards; in June 2019, she was invited by the Soundstone Artist Hannes Fessmann in Germany and by TransAmsterdam organization in Nertherlands. Her art exhibition titled 'Maya by Kalki' was opened at The Manor Hotel in Amsterdam
One of her Tamil poems 'Viddiyaiezhuthinen' (Destiny, I wrote) has been included in the text books for students of Bishop Heber College in Tiruchirappalli. To YourStory remark of that is a lot of feathers' in her cap, she simply said, "I am blessed. Blessed to be the person I am."
Kalki is associated with Sahodari Foundation, that is working for social, legal and economic empowerment of the transgender community of India. "I am making an effort to bring a firm positive change in transgender people's lives through Sahodari," she added.
Kalki strongly believes, 'like anyone else transgender too can contribute positively towards our country and the society we live in.'