15-Year-Old Child Prodigy Becomes the Time's 'Kid of the Year'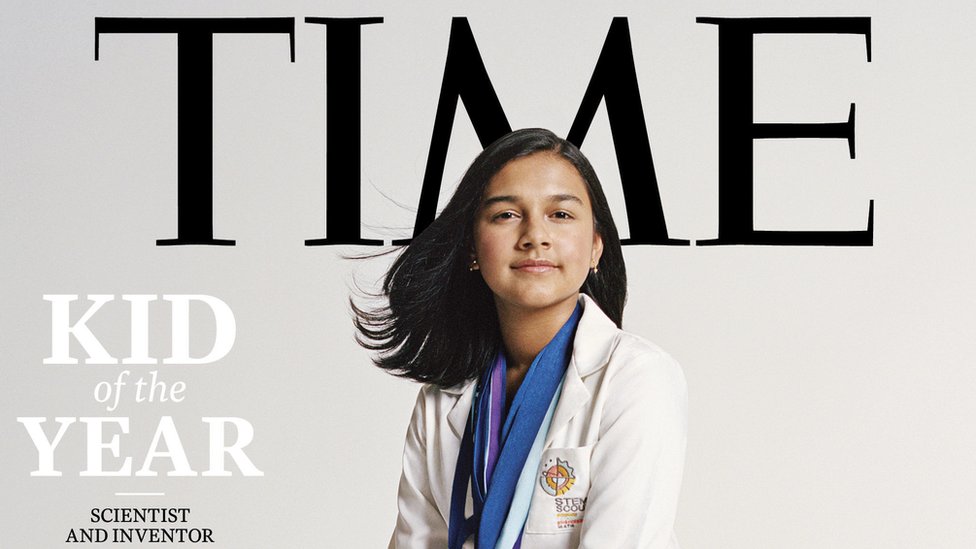 Gitanjali Rao an Indian-American is a brilliant young scientist and inventor who has been named by TIME magazine as the first-ever 'Kid of the Year' for her "astonishing work using technology to tackle issues ranging from contaminated drinking water to opioid addiction and cyberbullying."
The Indian-American from Denver, Colorado, Rao was chosen from among 5,000 US-based nominees. She was interviewed by actor and activist Angelina Jolie for the TIME special. She used technology to tackle issues from contaminated drinking water to opioid addiction and cyberbullying. Among the Indians who cheered her were Lok Sabha speaker Om Birla, former union minister and author Shashi Tharoor, former Andhra Pradesh chief minister N. Chandrababu Naidu, actor Priyanka Chopra, Chef Vikas Khanna, and others.
According to Time she "stood out for creating a global community of young innovators and inspiring them to pursue their goals", Last year, when Gitanjali Rao appeared on Ted Talks: Nayi Baat, actor Shah Rukh Khan introduced her as, "She is winner of the America's top young scientist award, she is on Forbes 2019's '30 under 30' and is the brain behind not one or two or three, but six innovations."
Rao does not look like your average brilliant scientist, and she is aware of this. "Everything I see on TV is that it's an older, usually white, man as a scientist," she quoted.
Life at home
Rao's parents, Bharathi and Ram Rao, have an academic background and supported her curiosity and intelligence, even though there have been incidents — such as the time when 10-year-old Rao declared to the family that she wanted to research carbon nanotube sensor technology at the Denver Water quality research lab.
"My mom was like, "A what?" she recounts.
When Rao was in second or third grade, she started thinking about using science and technology to create social change. When she was in seventh grade, residents of Flint, Michigan, were battling a grave problem a dangerous level of lead in drinking water. She created a device, called Tethys, which uses carbon nanotubes to quickly detect lead compounds in water and sends in the values of the water status 'safe', 'slightly contaminated', or 'critical' to a smartphone app. The invention won her the 2017 Discovery Education 3M Young Scientist Challenge.
Then, there is Kindly- an app and a Chrome ­extension that can detect cyberbullying at an early stage, based on AI technology. "I started to hard-code in some words that could be considered bullying, and then my engine took those words and identified words that are similar. You type in a word or phrase, and it's able to pick it up if it's bullying, and it gives you the option to edit it or send it the way it is. The goal is not to punish. As a teenager, I know teenagers tend to lash out sometimes. Instead, it gives you the chance to rethink what you're saying so that you know what to do next time around," Rao told actor and Time's contributing Editor Angelina Jolie in an interview for the magazine.
Another invention works with human genetics and can detect the growing problem of prescription drug addiction.
Gitanjali Rao is immensely talented. Her parents have encouraged her to pursue her dreams in an environment that is conducive, so that she can be what or who she wishes to be. It is a culture where, for all its flaws, an immigrant child can aspire to the top, realizing that her skills and talents will get recognized; that her ethnic origin won't be an insurmountable barrier.
Rao's innovation in lead detection in water, AI
While speaking about the strides she made in innovation and science, Gitanjali said, "A lot of the inspiration that I have drawn in from India. Looking at the water problem in India helped me understand how much of a widespread problem lead water is, especially in India."
She further added, "It is such a tragedy that people don't have clean water to drink. Everyone has the right to clean water." Gitanjali revealed that she has been approached by multiple institutions in India and would love to see those institutions reach out to other budding scientists too.
"I travel to India multiple times. I have friends, family members, and cousins who live in India. Every time I go there, I have something new to learn," she said while speaking to India Today.
"When I was much younger, I was told to go fetch water with my cousin from a well. My grandma would boil it and then we would drink it. We walked a far distance to get the water. I remember taking a sip of it and for the next week I was sick," she said.
She further said that it was one of the hardest experiences of her life, being only 4 or 5 years old at the time. The incident stuck with her, reminding her why clean water is so important for people all over the world.
"Marie Curie is my greatest inspiration"
While talking about her inspiration, Rao said, "Marie Curie is my greatest inspiration since I was in grade 2. Apart from that, my parents have been a huge support. My grandparents and family members from India have supported me."
She also named said that various scientists have acted as her inspiration, such as Emmanuelle Marie Charpentier, who is a French professor and researcher in microbiology, genetics, and biochemistry, and Jennifer Anne Doudna, who is an American biochemist known for her pioneering work in CRISPR gene editing.
Rao's AI service against cyberbullying
While talking about her efforts to prevent cyberbullying, Gitanjali said, "Kindly is an artificial intelligence-based service to detect or prevent cyberbullying. This identifies words or phrases that might be considered bullying."
She said, "Where I live in Denver, Colorado, we have the highest rate of teen suicides and most of them are actually dying due to cyberbullying. It is beyond scary. I realized I wanted to do something before it was too late. I wanted to create a safer internet where people could talk to each other."
Talking about the service, she said, "It is intended to be non-punitive. It allows the user to rephrase what they want to say if they want to. It gives them time to reflect because a second of reflection makes a difference."
Gitanjali is currently working on a 'reporting' feature in looking at the trends and report future cyberbullying to someone who is a parent or guardian. She said, "Science is important but so is awareness."
Rao on time management and Covid-19 innovations
Talking about her extracurricular activities, Rao said, "I am a strong believer of wanting to do things and not needing to do things. Everything I am doing is the things that I want to do. I love working on my inventions, I love kathak and I love singing."
"Even though it is hard at times I remind myself that I am doing what I love," she said.
"I have a few ideas that I would be working on. But, first of all, a big thank you to the collective effort of all the scientists and researchers who are developing a vaccine within a span of nine months. It is amazing," Gitanjali said while talking about the ongoing Covid-19 pandemic.
She said," My idea is an analytics-based approach for distribution and prioritization of vaccines just to make the process as smooth and effective as possible. We can assume that there will be more pandemics in the future and will happen more frequently, I want to look at how we can prevent this from happening with tools and techniques for contact tracing, vaccines, healthcare, etc."
Hope to be as powerful as Indira Gandhi: Rao
While talking about her inspirations from India, the 15-year-old scientist said, "My biggest inspiration from India is Indira Gandhi. We share the same birthday. It is humbling. Her work and her leadership is something that I hope to embody someday."
"She is a passionate role model for me and I hope to follow in her footsteps someday and be as powerful as she is," she added.
Gitanjali also talked about her love for Bollywood movies and how much she admires the work of actors such as Shah Rukh Khan and Piranha Chopra.
"I watch Indian films with subtitles. I did recently meet Shah Rukh Khan who was the most exciting and selfless person I ever talked to. I did a Ted Talk that he hosted. It was such an amazing opportunity. I will definitely continue to follow his work," she said.
She also said, "Priyanka Chopra recently tweeted me out. Her work not only in terms of acting but being a UNICEF ambassador, working with a lot of students everywhere and being such an amazing role model and activist is inspiring."
Rao's obsession with superheroes
Gitanjali talked about how much she loves superheroes, and how she is obsessed with Marvel movies. She said, "Anything with supernatural in it, count me in."
She said, "I really do want to be my own science hero. Not just about what I am creating but just about who I am as a person. My excitement towards solving problems that is why I want to be a science superhero."
"That is why I like superheroes. They are solving problems and I am helping people through the work of science and technology, using what I know best as a catalyst for social change," she added.
"With great powers, comes great responsibility. I see that so much right now. No matter what happens, I will continue to keep innovating and keep going. Responsibility is such an important thing and this is just one step in my journey towards solving bigger world problems," she said.
While talking about her future plans, she said, "I want my innovation workshops should be self-sustaining beyond me. My mind keeps changing on future plans." Gitanjali finally said, "My teacher told me that I am going to change the world one day. I did not believe it at the time but hopefully, I am getting there."