Amity University Patents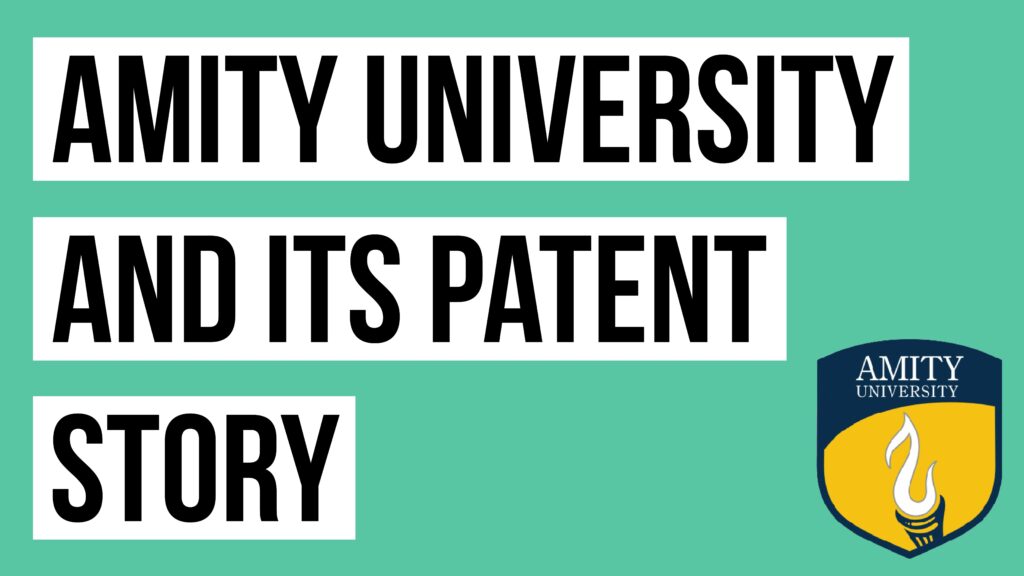 The University which was the first to start the culture of Patenting in Indian among the private universities, the university which actually got the importance of IPR and patents when not even government institutes or university were thinking; a university that created boom in their research by telling the world that they don't just invent but also protect, this is none other than Amity University India.
There is no doubt that private educational institutions have successfully emerged as competitors to government-run institutions of higher education. They have started to make a name for themselves and have made people believe that private universities are no less than government institutes. This blog is going to deal with how Amity University being the pioneer among the private universities in india changed the patenting scenario in India.
Amity University has always promoted research in its campus and has been continuously gathering huge sum for better quality of research to assure that the outcome of it, whether publication or patent, should be very strong.
According to Patent office's annual report, Amity University has been ranked in the TOP 10 patent filer among the education institutions and universities in India for consecutively 9 years. For 3 years consecutively i.e., from 2010 to 2013 Amity had been on top 2 and again in 2016-2017 report Amity was on the 2nd position.
Talking about numbers, according to the annual reports of Patent office and also Amity's own annual report, the University has filed more than 1500 patents and have 82 granted patents till date.
If we observe the domain or sector where Amity has been majorly filing its patents, we cans see that the sectors are – nano science and nano technology, environment & herbal technology, health and allied sciences, microbiology and many more such sectors.
Amity is not called a genius for only this but also because it has worked hard to bridge the gap between research output of the University. In order to do so, Amity has created its own technology transfer center called Directorate of Innovation and Technology Transfer (DITT) which functions as the Industry Interface of Amity University for commercializing the Patents and research; and the good news is that the University is successfully doing it.
If you look up for any university, that is involved in research, you will always notice they have the outcome of the research, because research means outcome in two ways either publication or Patents, and if there are patents, one should always look to get the patent in exercise. In other words, patents should be commercialized or technologically transferred.
Coming back to Amity IP portfolio, the university apart from Patents has also focused on copyright bigtime. They have more than 40 copyrights and more than 18 of them have been registered.
I believe that in research, patents encourage innovation by ensuring that a person's work focuses on new ideas. Universities and other public research organizations should focus on basic as well as applied research and also focus on protecting them i.e., patenting and then obviously focus on commercialization of the same. This will help academics to raise additional fund for research and spurring new startups.