Singapore's Intellectual Property Strategy 2030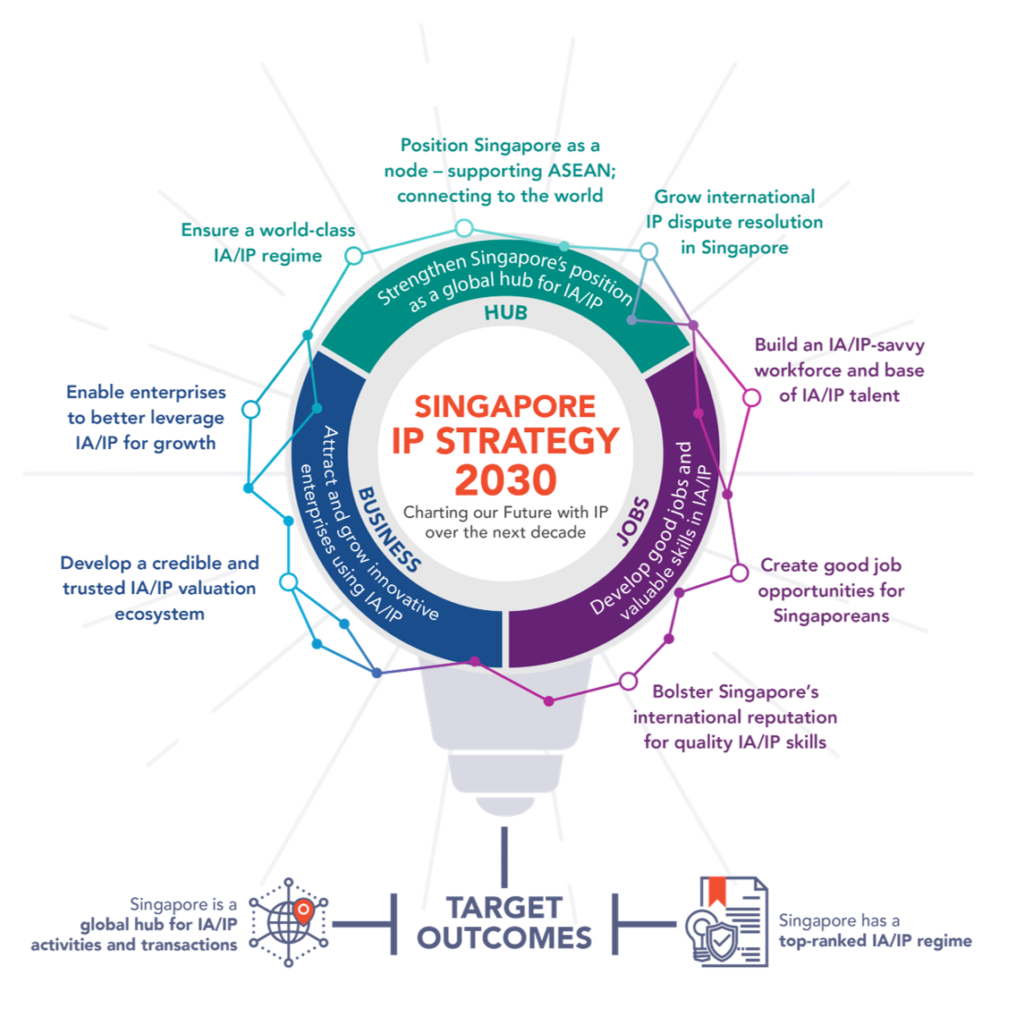 IP Office of Singapore (IPOS) announced the Singapore Intellectual Property Strategy 2030 (SIPS 2030) On World Intellectual Property Day of this year (26 April 2021), it is built on Singapore's 2013 IP Hub Master Plan and the updates of 2017.
In the 2013 IP hub master strategy, Singapore has taken incredible steps in building an IP ecological system that upholds advancement exercises, and is very much associated with worldwide business sectors. Simultaneously, the worldwide economy has advanced altogether, where IA and IP have expanded in prominence quality as drivers of financial development. Accordingly, undertakings should be furnished with the equipment and ability to deal with their IA/IP viably for development.
SIPS 2030 Comprises Three Inter-linked Thrusts:
1.Strengthen Singapore's position as a global hub for IA/IP: We aim to constantly review our IA/IP regime to ensure that our laws and processes are relevant and conducive for business growth.
2.Attract and grow innovative enterprises using IA/IP: Singapore has made significant moves to support enterprises in creating and protecting, managing, and commercializing their IA/IP assets.
3.Develop good jobs and valuable skills in IA/IP: Our goal is to create job opportunities for Singaporeans and increase the value of their IA/IP skills and competencies.
Singapore Intellectual Property Strategy 2030 (SIPS 2030) aims to maintain Singapore's position as a top-ranked IP regime by ensuring a conducive environment for businesses to protect, manage and transact their intangible assets and intellectual property. To build on firm foundations as a legal, financial, and modern services hub and leverage IA/IP to fuel the next bound of value creation and growth, these developments present an opportunity for Singapore.
Through SIPS 2030, Singapore continues to lay the foundation for IA/IP, making it the main driver of our city-state economy. The latest announcement should promptly remind companies to consider their own strategies when dealing with IA/IP, and prepare for the new challenges that the world will bring after the pandemic.