Red Bull vs Bullards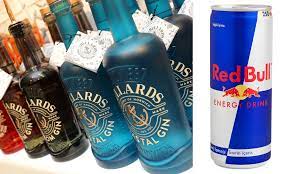 Red Bull, the Energy drink maker has started a trademark dispute against English gin producer Bullards Spirits for its use of the word 'bull'. Red bull has a claim to give you wings,  but brought a Norwich-based gin maker company (Bullards) back down to earth, threatening it with legal action over the use of the word 'bull' in its name.
In this year February , the Austrian soft drinks giant sent a letter to Bullards' lawyer alleging that the UK trademark 'Bullards' is similar to the 'Red bull' trademark because both words contain the word 'bull' and would create confusion within the public and consumers.
In a legitimate letter to Bullards, Red Bull said it was "prepared to resolve this dispute" if Bullards erased a progression of goods and services from its trademark application and enrollment, energy drinks, events and non-alcoholic beverages. "Our customer recognizes that your customer's brand stems from a historical family business and so it has asked us to highlight that it does not want to prevent your client from doing anything it has historically done," the letter said.
Russell Evans, Bullards' managing director, has branded the claim "ludicrous". "There is no confusion whatsoever and actually if we did concede we would be admitting there was." Said Russell Evans. In response, Red Bull said "We do not believe it appropriate to comment on a current legal case."
Bullards was founded in 1837 in Norwich, producing beer and selling imported wine and spirits before it was taken over by national brewery Wetness in 1963. In 2015 The Bullards name was revived, with the company focusing on gin. Red Bull, the Austrian firm was launched in 1987.