AFFIDAVIT: AN OUTDATED HERITAGE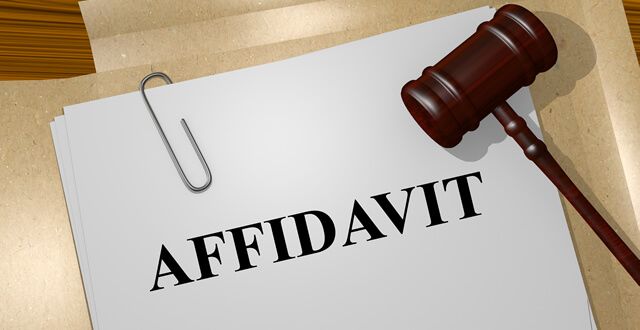 AFFIDAVIT- A NECCESITY?
'Our processes are not supposed to be as old as our principles', remarked Justice D. Y. Chandrachud while speaking about the topic "The Courts and COVID-19: Adopting Solutions for Judicial Efficiency". Here, he has appropriately marked that there is a need to constantly review the practice and procedure that is followed in the courts. The COVID-19 pandemic and the norms related to social distancing have disturbed the legal system all through the world. It was a need of the hour for courts to react rapidly to this unexpected challenge. In India, the Supreme Court drove the way by changing to virtual hearings following the declaration of a cross country lockdown in March 2020. Similarly, High Courts followed the way.
While it is not difficult to hold contactless virtual hearings in appellate courts, it is a very difficult task in lower courts as proof is needed to be found. It is fundamental to change the system in the trial courts to diminish individual contact without influencing the process of delivering justice. In these circumstances, using affidavit in the court process for giving evidence and different other sorts of information also require a survey as it is quite possible that social distancing becomes a part of our life for quite a while to come.
For Attesting affidavit, it is obligatory to visit a notary or different people who have been permitted to administer oath. The deponent likewise requires an individual for verifying his identity as per the satisfaction of the attesting authority. Hence, it is quite clear that attesting an affidavit requires physical contact of a minimum of three people which has to be avoided in the current pandemic situation.
AFFIDAVIT IN INDIAN COURTS
Have you ever observed that in Indian courts, the only thing that is used widely for the purpose of evidence presentation and other information in common law is affidavit?
Let's look at some examples where it is used. In CRPC, court might order to produce an affidavit to prove a fact. It is also required to be filed with the plaints. Interrogatories are likewise to be replied by an affidavit. If the summons are not duly served, the officer responsible is required to file a report with an affidavit. Even when you apply for plea bargaining, you will have to file an affidavit. Therefore, in short we can say that affidavit is widely used in the procedure of court.
WORLDWIDE PRACTICES
Although, presentation of an affidavit is common in majority of the nations. But in the wake of pandemic, some nations like Ireland have supplanted affidavit with the 'statement of truth' to combat the pandemic. This statement is an electronic statement with the digital signature of the deponent. Likewise, UK came up with 'statement of truth'. Even in US, an unsworn declaration is allowed instead of a sworn affidavit.
Don't you think that there is a sincere need to alter the practices followed in India to grow?
WHAT IS THE EFFICACY OF AFFIDAVIT TO DISCOVER TRUTH
It is important to check whether an affidavit is any way more successful than a simple signed statement to discover the truth which is a definitive point of court. Traditionally, affidavit was considered important because it was supposed to have a moral force on the deponent. Notwithstanding, doubts have been raised on the same. Jeremy Bentham, a renowned jurist, marked out all oaths as useless. Sir John Mellor, Justice of England in 1874 delineated affidavit to be of worthlessness. Justice Holmes said that people are blindly following the past practices and are not evolving with time.
LAW OF PERJURY
Have you heard the word perjury? If not, see right here.
In these changing times, a strict law for giving a false statement is much more efficacious to bring out the truth in the court room. In common law countries, an offense of giving bogus proof which is called as perjury, can be called on only when any false evidence is given on oath or affirmation. Therefore, an oath or affirmation is necessary to apply moral force and to make deponent liable of perjury. Due to this definition of perjury, the nations which substituted affidavits made new laws for punishing any person who gave an unsworn but false statement in the court.
Indian law is more practical. As per section 19 of the Oaths act 1969, an individual who gives evidence to the court is required to give true statements. As per law commission report on oaths act, swearing to oath isn't mandatory to state truth under Indian law while it is in other nations who follow common law. As per sec 191 of IPC, any person who is lawfully bound due to an oath or due to an express provision of law to disclose true facts of the case, gives false statement is legally responsible for giving that false statement and therefore, punishable as per sec 193 of IPC. Now, if we look at sec 14 of oaths act, which makes every individual legally bound to give true statements, we can assume that giving a false statement in court would amount to an offense just like giving a false affidavit would. Therefore, it is quite possible that if the courts replace affidavit and bring a simple self-declaration concept, it will not weaken the punishment giving concept.
CONCLUSION
On account of this, don't you think that the time has come where affidavits can be replaced? The concept of electronic statement of truth or electronic unsworn declaration can be brought up where the deponent will be liable for giving a false statement. Supreme Court is trying hard to involve modern technology and by recognizing the concept of 'unsworn' statement, it might help it to achieve its objective and during this pandemic, it would reduce the human touch and papers would also be reduced.