Lost her Limbs, not her Hopes; Shalini Saraswathi, The Blade Runner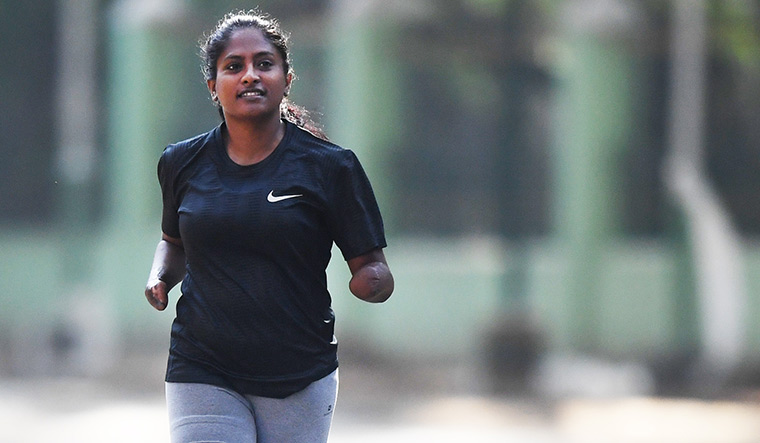 Shalini Saraswathi lost her limbs to a rare bacterial infection she contracted while she was on a holiday in Cambodia in February 2012. "Around a month after the holiday, I started feeling exhausted and slightly feverish," says Shalini wiping off her tears with the stubs of her arms, reported The Week. "Since I was pregnant at that time, my doctor attributed these symptoms to my pregnancy. My conditions started deteriorating rapidly. However, on April 1, 2012, I was admitted to the ICU of Bengaluru's Manipal Hospital. I had multiple-organ failure, my heart had stopped beating and my lungs were filled with water. No one thought I would make it."
The blade runner won the bronze medal at the national-level parathletics held in 2018. This quad-amputee who is 36 is now preparing for Paralympics which will be held next year. She's a motivational speaker and blogger with her own original series on firework.
Shalini's body, instead of fighting the bacteria fought through her healthy cells. The doctors thought she had very slim chances of survival and informed her family too. But by God's grace, on April 5, which is also her birthday, she woke up from coma. On waking up, Shalini realized that her limbs had blisters and had turned black and blue, she could not feel or move her limbs. The doctors then told her there is a chance that she might have to amputate her limbs.
"I remember being very calm about it, I thought that the doctor must be joking, because you don't go to the hospital with fever and then lose all your limbs," says Shalini. Meanwhile, Shalini started working from home for a BPO, an industry she continues to work for even today. In March 2013, the constant use of laptop and the spread of infection resulted in a fracture in her left hand.
Her left arm had to be amputated and six months later, her infected right arm fell off, which is medically termed as auto-amputation. "That's when we figured out that there is no point in waiting, at that point close to about two years, I was in bed, I was absolutely immobile," says Shalini. In September 2013, Shalini decided to have both her leg amputated as well.
Shalini had been in bed for over a year-and-a-half and she had forgotten what it is like to walk and be on her feet. As a double amputee, Shalini could have her prosthetics custom-made to increase her height. "I was very excited because I have been under five feet all my life. I have been called "shorty" all my life and other jibes that you get for being short. So I jumped at a chance to grow taller," she says. With her prosthetics, she was able to reach a height of 5'4 and she also has an extra pair that are a bit longer as well.
There were various emotions in dealing with what had happened; "I would sometimes feel hopeful and would sometimes feel terrible," said Shalini. With great gusto, Shalini started tackling her problems one at a time. Being immobile, she had put on a lot of weight. So she started hitting the gym, most of the trainers were supportive but they did not know how to train a quadruple amputee.
She was then introduced to B.P. Aiyappa, a coach at Bengaluru's Sri Kanteerava Stadium. In 2016, on his suggestion she started running and got hooked on it. In the same year, she took part in TCS 10K and finished with a time of 02:02 hours and in 2017 she got better with time to complete in 01:35 hours. In 2018, she took part in the National and won third place in 100 metre sprints. However, during these races, she had to stop to in between, take off her prosthetics, wipe them off due to excessive sweat and then continue with the race.
"It is not as easy as it looks. You have to be fast, and there is a lot if technique involved." Her strength and stamina continuously increased. "Shalini is now a para-athlete. She has made us all proud," says Aiyappa.
What does running mean to Shalini?
"For me, it has been about my personal growth; Now I feel I can deal with things that come my way and get through life. Running has also given me the courage to chase my dreams, because you figure out you are strong enough to do it."
Shalini is now a para-athlete and is training to qualify for next year's Paralympics in Japan. Apart from this, Shalini is also a motivational speaker and a blogger, she is also the Deputy General Manager at First Source Solutions, a BPO company. During the lockdown, Shalini started vlogging with Firework, a Silicon Valley-based app that features original content series and enables its users to find, create and share 30-second videos.
Shalini shares her life lessons on the app as part of its original content series called, "Breaking Barriers- Shalini 2.0".
'The idea was to normalize disability. I think people have so many hangups and notions about it. There are two images about disability.One is this huge & larger than life- somebody who climbs Mount Everest with no feet- the inspiring image or the other image which is sad, which is typically there in advertisements and cinemas. There is nothing in between that normalizes it. People with disabilities exist in the world and we are ten percent of India's population. We are hardly seen and even less heard," explains Shalini.
The fighter spirit Shalini embodies makes her unique and special.