'Galaxy Space' Trademarked by Samsung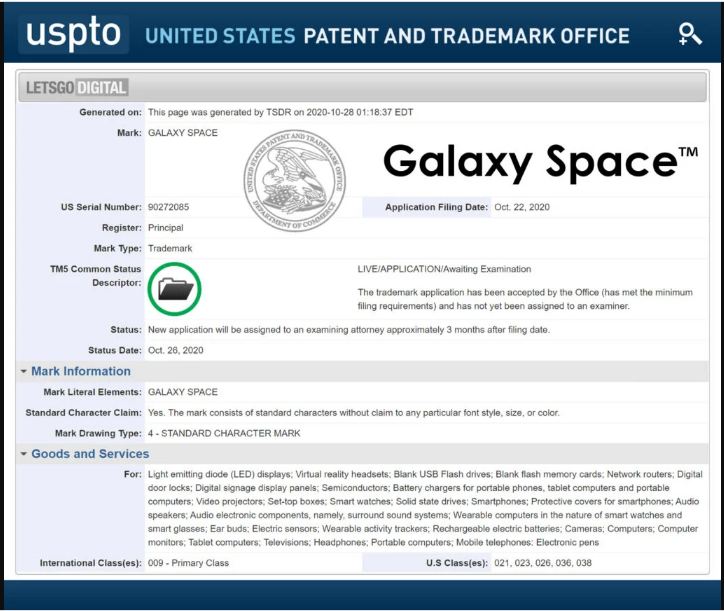 Samsung is reported to launch the Galaxy S21 series earlier than in the previous year. The three smartphones are expected to debut in January. It looks like there is a lot new stuff from Samsung waiting to be unveiled in the near future. Ahead of it, these devices have begun to receive certifications from multiple bureaus. Moreover, the South Korean tech giant filed a trademark called 'Samsung Blade' recently, which it could use for the Galaxy S21 series. Now, the company's another newly filed trademark called 'Galaxy Space' has emerged.
Now, LetsGoDigital has discovered that Samsung is working on a VR headset trademarked with the name Galaxy Space. According, to the mentioned platform, Samsung could use this trademark on a VR headset that appeared on Geekbench in July 2019. The VR headset was spotted with 8GB RAM and running 32-bit Windows 10 Home. Other than that, like the Samsung Blade, the trademark is also categorized as Class 9 which means it can be used on various products VR headset, LED displays, Tablet PCs, video projectors and even more.
Samsung Electronics filed the 'Galaxy Space' trademark with the USPTO (United States Patent and Trademark office) on October 22. But it got approved and published on October 26. Further, there is also a chance that the company could use it for monitors as it already sells monitors with 'Samsung Space' branding. Whatever it may be, we will come to know about it in the days to come if Samsung really intends to use it.