Stanford University Patents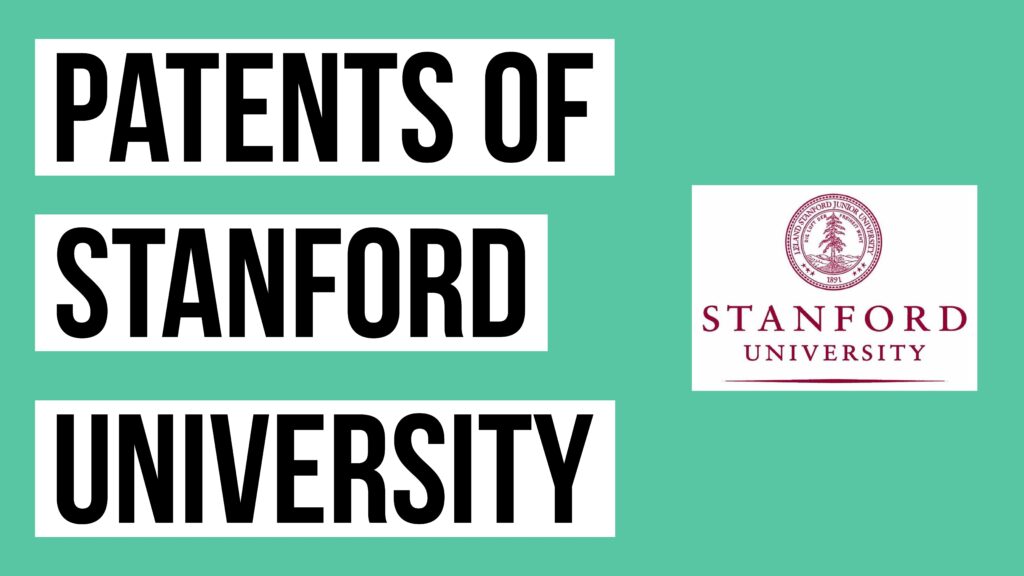 Thinking is the main quality that distinguishes a human from other creatures. had we lacked this quality, we would have been no different from them. It is a valuable and continuous mental process that helps us achieve our goals, our thinking skills maybe represented in a solution for a problem, or in generating an effective idea to reach our ultimate goals. Filling the knowledge gap is the doorstep to moving from regress to progress, whether it is economic, scientific, or cultural regress, in general. It must be taken into consideration that a nation's wealth is no longer centered around its natural material and sources of wealth such as natural resources and lands, and that it is rather represented in knowledge.
In this blog we will be enlightening ourselves about a university that has redefined the word "university." It has proven to the world that there is way more to education that just textbook knowledge.
When we talk about knowledge resource, one will naturally focus on the academics. Universities have become the sources of power in the knowledge-based economy of the century, as they represent an integral part of the production chain of innovations and skills and transferring them to business and society. in the same way, innovation plays an extremely important role in universities. It is represented in using and employing the activities and outputs of universities' missions in education and scientific research fields, employing them in community service and, thus, achieving revenue for universities.
If we throw light on the "knowledge triangle," which includes education, scientific research, and innovation, we denote that innovation is the resultant of education and scientific research through creative knowledge and reaching new ideas, business, and products, or developing and improving what is already there, transferring knowledge beyond universities, participating with business and society, and applying achieved innovations and transferring them to commodities and services.
Let us now put a halt to the suspense and reveal the name of this exceptional university. Ranked on the 1st place for 5 years consecutively, Stanford University tops Reuters' ranking of the World's Most Innovative Universities, a list that identifies and ranks the educational institutions doing the most to advance science, invent new technologies and power new markets and industries. The university has reserved the top spot for itself by consistently producing new patents and papers that influence researchers around the globe.
This is not only about patents and publication, but also how the university's faculty and alumni have founded major tech companies including Google, Hewlett-Packard and Cisco Systems. A 2012 study by the university estimated that companies formed by Stanford entrepreneurs generate so much revenue that if they were to form an independent nation, it would rank among the 10 largest economies in the world.
If we talk about the number of patents of Stanford University, more than 22000+ applied patents are shown by PatSeer under SU's name. Stanford owns patents individually as well as in collaboration with different institutes and industries; they have their own research center too. The success rate of these patents are more than 60% and commercial impact score of Stanford patent is more than 75%.
Major technology areas where Stanford is filing patents are: –
Computer software & internet
Chemicals
Medical devices & healthcare
Agriculture, forestry & food
Pharmaceuticals & biotech
The Office of Technology Licensing promotes the transfer of Stanford technology for society's use and benefit while generating income to support research and education. In September 2019 –August 2020, Stanford received $114 million in gross royalty revenue from 847 technologies. 84 of the inventions generated $100,000 or more in royalties. Ten inventions generated $1 million or more.
Few of the major Inventions Licensed by OTL:
Antibody therapies:
Artificial facet joint:
CoreNLP:
Data analytics:
Digital music:
DSL:
Google: The world's most popular search engine got its start as Sergey Brin and Larry Page developed the page-rank algorithm while doing their graduation.
Recombinant DNA: This ubiquitous tool for molecular biology was developed in 1973 by Stanley Cohen and Herbert Boyer to enable scientists to perform genetic engineering by combining pieces of DNA from different organisms.
Tuberculosis test: Gary Schoolnik and his colleagues developed a diagnostic test for tuberculosis that can distinguish between patients who have been vaccinated and those who have the disease.
293T cell line: 
The innovations don't stop here. Stanford alumni and faculty have founded more than 39,900 companies since the 1930s. Frederick Terman, provost from 1955 to 1965, is called the "academic architect" of the high technology region known as Silicon Valley.
Stanford graduates have founded, built or led thousands of businesses, including some of the world's most recognized companies—Google, Nike, Cisco, Hewlett-Packard, Charles Schwab, Yahoo!, Gap, VMware, IDEO, Netflix, and Tesla.
In the area of social innovation, the Stanford community has created thousands of non-profit organizations over the decades, including well-known organizations, such as Kiva, the Special Olympics and Acumen Fund.
The data available on Stanford University is unfathomable and one can go on and on talking about it. It has set up a milestone for success for all the universities out there. Other universities can take a truckload of inspiration from SU's determination towards the triangle of academics and its seriousness toward their IP, their Patents.