Patent filing fee to be paid 80% less effective from 21st September 2021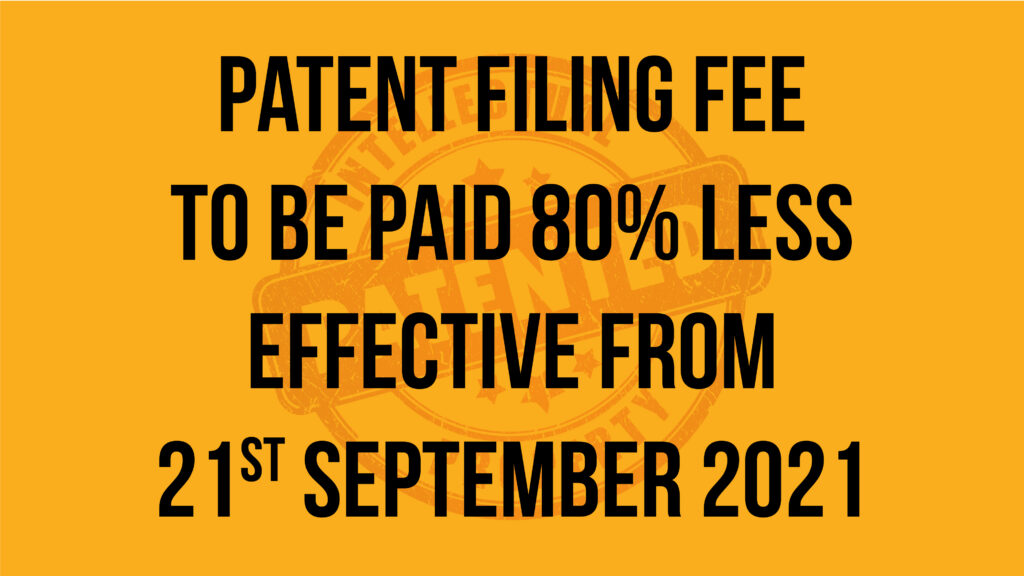 Government reduces Fee for Patents filed by Eligible/recognized Educational Institutions by whopping 80%. Filing – 1600, Publication – 2,500, Examination- 4,000 Expedited Examination – 8, 000.
A patent application can be filed either by a natural person, start-up or a small entity and the fees differs as per the type of applicant for e-filing and physical filing. However, educational institutions which are recognized and government-aided are eligible for the reduced fee for patent application.
Total fee – filing, publication, and renewal – for an institute, which is around Rs 4.24 lakh now, is reduced to Rs 84,900.
The Draft Patent (Amendment Rules), 2021 to further amend the Patent Rule, 2003 was published by the Ministry of Commerce and Industry, Government of India in the month of February 2021. And on 17th August 2021, Piyush Goyal, Hon'ble Minister of Commerce and Industry announced a whopping 80% of fee reduction to all recognized Educational Institutions applying for patents.
Yesterday an official Gazette was published dated 21st September 2021 stating the applicability of the Patents (Amendment) Rules, 2021 which shall be effective from the same date.
The Fee reduction will be applicable not only to the government aided institutions but also to private institutions, regardless of whether these institutions are located in India or elsewhere in the world as the Hon'ble Minister is of opinion that it is prejudiced to limit the applications filed by government institution only.
It is also estimated that this is the lowest fee ever levied for a patent application among all of the world's leading patent offices. The Hon'ble Minister further stated that the time it takes to evaluate a patent application has been reduced from over six years to 1-2 years, and that efforts are being made to reduce the period even more. It was also said that the Department for Promotion of Industry and Internal Trade (DPIIT) will begin processing this announcement's approval soon. It was also suggested that DPIIT create a strategy to give scholarships to students studying law connected to Intellectual Property who come from economically disadvantaged backgrounds.
"I think this will be a great encouragement for universities. I do hope to see lots and lots of new universities and educational institutions participating in this. I would encourage all universities – both in India and abroad – to take benefit of this," the minister said.
Hon'ble Minister also added that there is a need to bring an intellectual property (IP) revolution for inclusive progress and strengthen intellectual property rights (IPR) laws in the country to create more jobs, boost competitiveness and manufacturing.
Hoping that this will welcome innovations from various recognized, school, colleges, and universities for patent registration and aiding encouragement for educational institution to contribute in Indian patent application globally. This will also boost the research and innovation ecosystem across the country.