Evel Knievel's son loses Disney Duke Caboom trademark case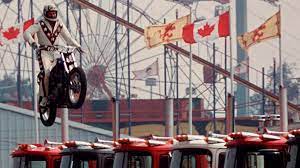 Evel Knievel's son had filed trademark infringement lawsuit a year ago against the Walt Disney Company and movie company Pixar over a "toy Story 4" daredevil character named Duke Caboom, which is dismissed recently by a judge.
Kelly Knievel said on Monday that "We're obviously disappointed" and "We are considering our options at the 9th Circuit Court of Appeals in San Francisco." The case was dismissed by a U.S judge in Las Vegas till 23rd September, saying that the entire Caboom character was "reminiscent" of Evel Knievel, "Disney's use of Evel Knievel's similarity contains huge transformation components" and is not a literal portrayal. A Walt Disney Co. representative didn't promptly commented.
Kelly Knievel, head of Las Vegas-based K and K Promotions, had characterized the Caboom character as "a direct knock-off of the legend and historical significance" of Knievel's father, the famous stunt motorcyclist who died in 2007 at 69 in Florida of lung disease.
In September 2020 the claim was documented which accused Disney and Pixar for purposefully modelling the "Toy Story 4" character on Knievel, whose stunts included motorcycle hops in 1967 over the Caesars Palace fountain in Las Vegas including a breathtaking near fatal accident and in 1975 over a line of transports at Wembley Stadium in London.
"The film character has a different name and clothing, is Canadian rather than American, and wears a mustache and different hair color and style than Knievel," Said the judge.
"Duke Caboom is not a carbon copy of Evel Knievel minus a few details, The Duke Caboom action figure is a representation of Disney's expression in the film and not an attempt to imitate Evel Knievel." Mahan wrote.