U.S. President Biden calls for IP protection waivers on COVID vaccines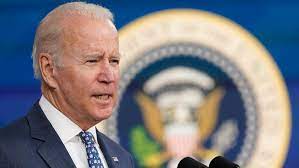 On 26th November 2021, U.S. President Joe Biden called on nations expected to meet at the World Trade Organization next week to agree to waive intellectual property protections for COVID-19 vaccines in the wake of the identification of a new coronavirus variant in South Africa. In a statement, Biden said the discovery of the new variant demonstrates that the pandemic will not end until the entire world has equal access to vaccines.
Biden said, "The news about this new variant should make clearer than ever why this pandemic will not end until we have global vaccinations, this news today reiterates the importance of moving on this quickly."
The Biden management faces sparkling criticism over a failure to get vaccines to poorer nations at the same time as offering free booster shots to Americans, after the brand new variant named Omicron became identified.
 The World Health Organization specified the brand new coronavirus strain which it dubbed Omicron after a letter in the Greek alphabet a "variation of concern". Omicron has been blamed for a surge in new infections in South Africa. WTO negotiations are deadlocked over a suggestion by India and South Africa to waive intellectual property rights for COVID-19 vaccines and supplies.